Environmental, Social & Corporate Governance (ESG) Management Audit
2nd April 2023
Back in December 2022 Trent refractories received a gold standard award from EcoVadis placing us in the top 5 percent of companies of comparable size and industry. Tens of thousands of companies partner with EcoVadis to collaborate on sustainability with a common platform, universal scorecard, benchmarks and performance improvement tools. We are pleased to announce that we have also just completed another assessment with EcoVadis and we remain committed to the sustainability of our global operation.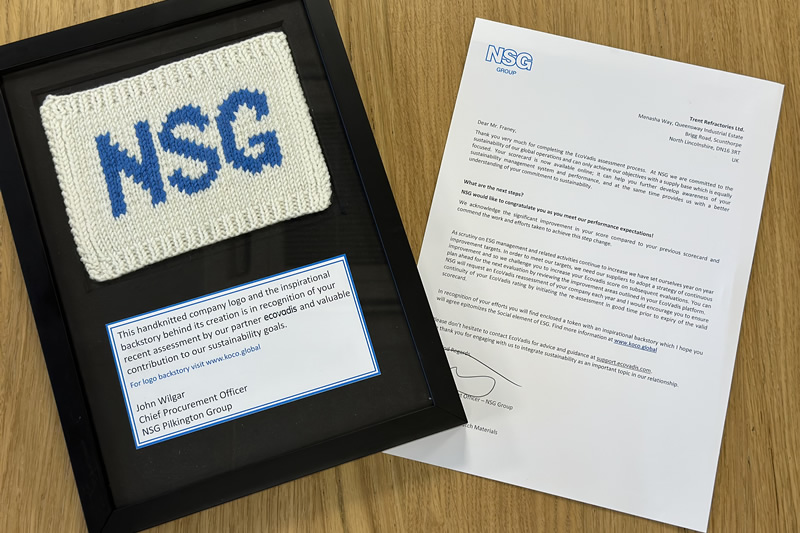 This framework is very much part of our Environmental, social, and corporate governance (ESG) management and at the very heart of our business. We have also received a recent communication and unusual company logo from the assessment partner for EcoVadis which is shown in the image and its accompanying letter.
To drive global supply chain sustainability, large multinational corporations partner with EcoVadis, leveraging the influence of spend as a "force for good" to push trading partners beyond compliance. The rated company can see how their score compares to the benchmark in their industry. Combining the scorecard results with improvement areas results in a "race to the top," in which whole industries compete to achieve global best practice. Through the Enterprise subscription and associated services, EcoVadis provides an outsourced sustainability management platform that helps large organizations to: invite their trading partners to be rated; manage trading partners' performance; drive continuous improvement.
Purchasing organizations easily integrate EcoVadis Scorecards into their day-to-day business practices (such as vendor registration, compliance, sourcing, and supplier performance and relationship management), driving their organization to make more sustainable procurement decisions, while positively incentivizing trading partners that align with their sustainability practices. To date, EcoVadis has rated over 75,000 trading partners worldwide, mitigating risk for some of the world's largest organizations, while positively impacting the environment, fostering transparency and driving innovation.
#Refractories #Refractory #MadeInBritain
Other Articles
28th November 2023
13th November 2023
08th November 2023
02nd November 2023
11th October 2023
03rd October 2023
02nd October 2023
29th September 2023
21st September 2023
04th September 2023