Mechanical Engineering Technology Degree Apprentice
10th May 2021
To support product and process development; to provide testing services and quality control checks and records on products and raw materials from production, supplier and customer sites.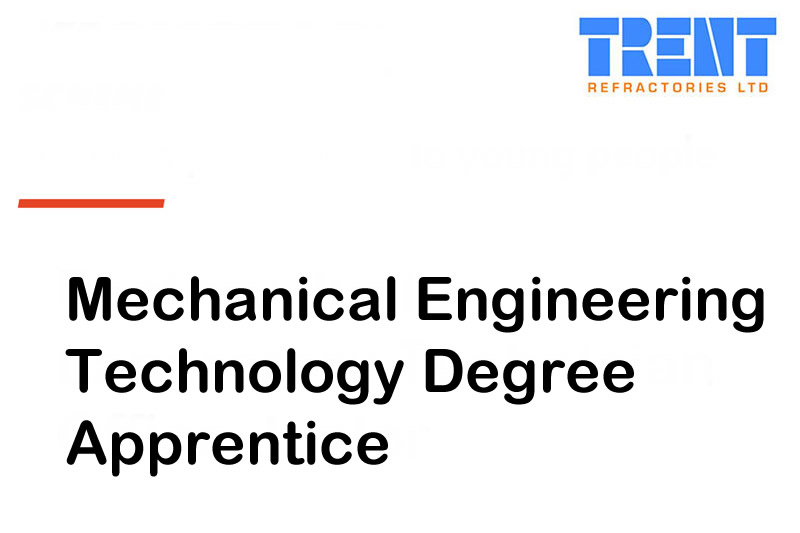 Trent Refractories are a UK based manufacturer and supplier of bespoke refractory solutions, supplying the UK market and beyond. Our reputation for competitively priced high quality products is known throughout the industry, and our ability to offer quick turn-around times that can be tailored to our customers' demands sets us apart from the rest.
Due to an increase in demand for our products, we are able to offer this permanent position. You will be part of a dynamic team, ensuring adherence to stringent quality production controls and records, creating bespoke products for a wide range of international clients. As well as SHU Engineering Degree, you will receive training and on the job support from a highly qualified & published scientist, respected in her field, and provided with the opportunity to learn, and do, all aspects of manufacturing refractory products. You will be on an educational and work experience path which will eventually enable you to participate in the design of new bespoke refractory products and improvements to production of existing products. Employees who are committed to Trent, have Trent's full commitment to them; as a family run business, we support and reward our people throughout their employment providing competitive salary, training and career advancement.
Key Responsibilities:
Laboratory Technician reporting to the Technical Manager
Testing, Prepare Samples and perform required tests, Collation of Data, Storage/disposal of samples
Plant and Site Assistance; Internal trial support for products, External supervision of trials, installations; monitor and maintain Quality standards
Administration; maintain and use data as required
Maintenance of equipment and facilities; all equipment and areas of work to be in good working order
Stock Control; ensuring supply inventory meets product needs and is managed accordingly
Health and Safety procedures must be followed at all times.
Desired skills:
Practical, methodical and meticulous approach with the ability to work in a team, or independently, in an organised manner. Office 365, basic understanding, SharePoint, Outlook, Word, Excel Excellent written and verbal communication skills.
Personal qualities
Positive attitude, committed, enthusiastic, flexible, trustworthy, adaptable to any tasks required, work well within a team and as an individual, the ability and desire to learn.
Other Articles
28th November 2023
13th November 2023
08th November 2023
02nd November 2023
11th October 2023
03rd October 2023
02nd October 2023
29th September 2023
21st September 2023
04th September 2023