Scunthorpe Telegraph - A Happy Ending To A Tragic Tale From Trent
19th August 2016
FIVE years on from inheriting the managing director's chair of the family business in tragic circumstances, Katy Moss is celebrating being named First Woman of Engineering and Manufacturing. The Trent Refractories boss won through in the most hotly contested category at the First Women Awards, and was crowned at the Lancaster Hotel in London.
Backed by the CBI, it underlined an emotional journey that began with the death of her father as negotiations to sell the 27-year-old northern Lincolnshire business she was not even then part of were underway.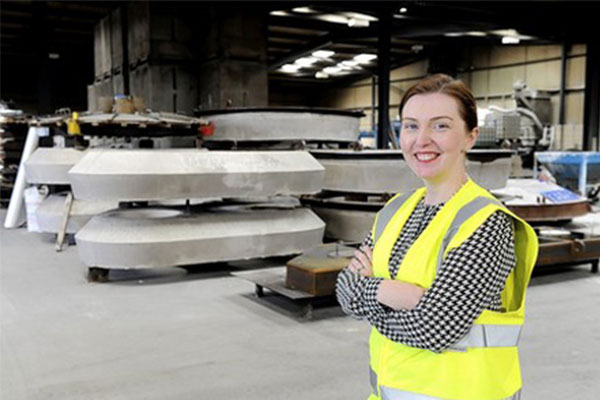 The loss of Robert 'Bob' Crossland led to a kitchen table re-think, and with interest rates at a record low, a decision was made between mother and daughter to forge on, rather than bank any accepted offer. "My mother was left behind and she felt it was easier for what she wanted to achieve for the business to keep going rather than putting any sale proceeds in the bank," she said. "I committed to running the business and we decided not to sell."
So began a "near vertical learning curve" recognised this summer. Mrs Moss, with a young daughter, rose to the challenge, keeping a steady workforce of 14 at the Queensway Industrial Estate base in the shadows of Scunthorpe's iconic steel works. Without any knowledge of the refractory products or running a manufacturing company, she set herself the mandate to secure the jobs of her employees and run the company on behalf of the family. Describing the "tireless work to provide a stable future," she said: "It was a tough time for our family and I had a near vertical learning curve whilst also juggling my other career initially, being only 29 at the time it was difficult bringing people on board."
Mrs Moss was working a day a week for HSBC on the management trainee scheme, and having upskilled following the birth of her daughter, she had just been promoted to business manager for an 11 school academy based at Retford, on the Lincolnshire and Nottinghamshire border, when her dad was cruelly taken. "When he died, me coming in was just supposed to be a temporary thing," Mrs Moss said. "I was there to understand the sale, so I put my job on hold to try and gain enough information."
The rest is history, leading to the win, all the more poignant, as it came as National Women in Engineering Day was celebrated. "It was a wow moment. Just to be nominated and shortlisted was an amazing experience but it has made me reflect on the last five years and I feel proud and honoured, it is nice to be recognised by others, and it was also nice to be able to have my 12 year old daughter at the event as I hope seeing and meeting such strong inspirational women gives her drive and belief in herself to forge her own future."
Mrs Moss now plans to try and grow the business further in a challenging market. From Menesha Way, Trent supplies the major players in the steel industry in the Sheffield, Rotherham and Scunthorpe area – where the business has been based since it began in 1989 – with heat resistant materials to line furnaces. Out of 134 similar companies, less than a handful have female managing directors, with far less of those actually producing refractory materials like the £ turnover business.
Katy believes a fresh approach has enabled the company to move forward. "I try to engage with people on all levels and make them feel part of the bigger picture, helping them realise they can affect the outcome of everything they do. Integrity, honesty and openness are important to me," said the Yorkshire and Humber Living Wage Award winner of 2015.
She is also proud of the British made products, believing it gives the edge when it comes to quality. Of the recent EU Referendum decision, she said: "I think we need to accept the result and get to work on securing our future as an independent country, focusing on the right negotiations that are going to help us be competitive and fuel our exports."
"Britain has a history steeped in steel-making and can produce exceptional products which cannot be rivalled anywhere in terms of quality. We have done an excellent job with locally produced food and British meat but we need to try and think about everything we buy and make ethical and considered decisions that secure the future of our country."
She pipped leading figures from National Grid, Schneider Electric and the Royal Academy of Engineering to the title. Hosted by Canadian comedian Katherine Ryan, the 2016 First Women Awards produced another stellar crop of inspirational winners, now in its 12th year.
Previous recipients have included Dame Mary Perkins, founder of Specsavers, Thea Green, founder of Nails Inc, and corporate leaders such as BP's Angela Strank. Trent was this year on the podium with First Capital, Golin, Kiddylicious and Dell.
Other Articles
03rd May 2023
17th April 2023
02nd April 2023
17th March 2023
13th March 2023
09th March 2023
07th March 2023
07th March 2023
01st March 2023
01st February 2023