Trent Refractories Visiting METEC & GIFA In Dusseldorf
16th June 2023
Katy Moss & Rebecca Kennedy from Trent Refractories visited METEC and GIFA trade shows in Dusseldorf Germany, which ran from 12th June to 16th June 2023 at the Dusseldorf Exhibition Centre. Both of these exhibitions are globally renowned as the place to go for our industry. GIFA is recognised as the most important trade fair for foundry technology in the world and a leading trade fair for the metals industry.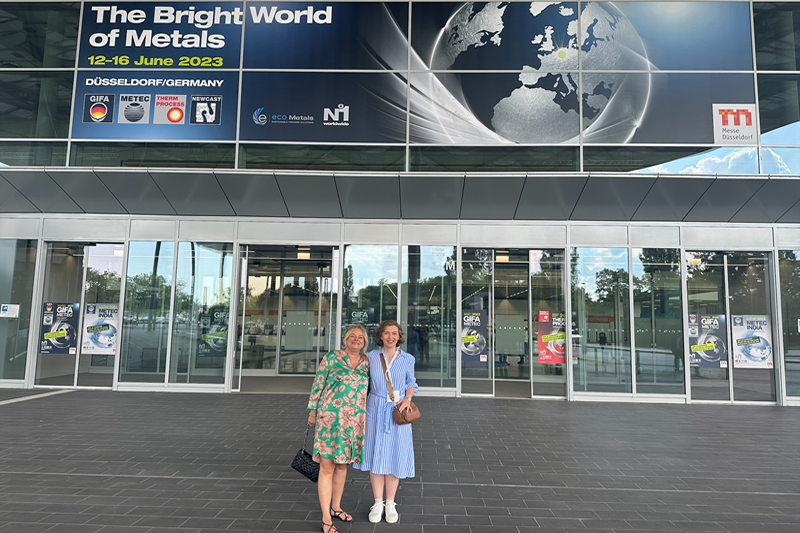 GIFA, looks back on a long tradition in the Düsseldorf trade fair portfolio and offers the almost complete world range in the areas of foundry and melting plants, refractory technology, plants and machinery for mold and core production, molding materials and molding supplies, model and mold making, control technology and automation, environmental protection and waste disposal as well as information technologies. The trade show is accompanied by a diverse supporting program with numerous seminars, international congresses, symposia and lecture series.
METEC is an international trade fair and congress that specializes in metallurgy, steel casting, and steel production. Recognised as the world's leading trade fair for foundry technology, the fair focuses on topics such as the production of ferrous and non-ferrous metals, equipment and components for foundries and rolling mills, measurement and control technology, and data communication. METEC provides a significant platform for the exchange and presentation of the latest innovations and technologies in the metallurgy industry. It showcases a wide array of products and services, including machinery and equipment for metal production and processing, measurement and control technology, and IT solutions.
#Refractories #Refractory #MadeInBritain
Other Articles
21st September 2023
04th September 2023
20th August 2023
01st August 2023
17th July 2023
20th June 2023
19th June 2023
08th June 2023
06th June 2023